Power Rangers: Jurassic Defenders
is the adaptation of Zyuden Sentai Kyoryuger and the first of the Defenders of Earth Series that is currently written by jcram0. In this adaptation, it takes place in an alternate universive, where this Ranger team is Earth's first defenders.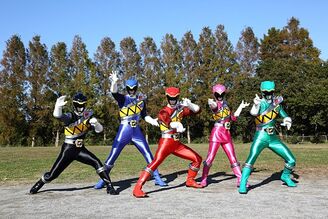 Long ago, in the time of the dinosaurs, Earth was invaded by forces from outer space known as the Dread Army. The only people capable of stopping them were a group of warriors who had a powerful connection with the prehistoric creatures. In the modern day, five teenagers are chosen to use the Dino Cells against this revived threat to save the planet. They are the Power Rangers: Jurassic Defenders.
Characters
Edit
CiviliansEdit
Doctor Sara Clarke (John's Adoptive Mother)
Detective Elias Harper (Andrea's Father)
Yvonne Reynolds (Neal's Younger Sister)
Rhea Reynolds (Neal's Younger Sister)
Ryu Sakamoto (Riley's Uncle)
Dread Army

Chaos
Dogma
Koros
Hotei
Penthos

Dreloks
Legion
Devours
Transformation Devices / SidearmsEdit
Dino Defender (Morpher / Blaster)

Jurassic Saber (Sword)
Jurassic Rifle
Multi-Use DevicesEdit
Dino Cells for use with Jurassic Buckle
Communication DeviceEdit
It Begins (Part I)
It Begins (Part II)
Sword Play
This Is Me