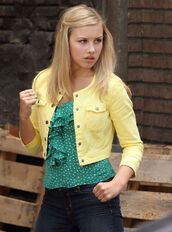 Yvonne Reynolds is Neal's younger sister.
Biography
Edit
Yvonne is fifteen year old high school student attending Sanctuary Cove High School alongside her older brother. She is a straight-A student and one of the most popular girls in school. Because Neal is being constantly being bullied by Callen and his crew, she worries about her brother.
Personality
Edit
Yvonne is generally kind, accepting, and down-to-earth. She's commonly known as the good girl, and sometimes even a nerd. She's willing to show her rebellious side but is proud of who she is.
Ad blocker interference detected!
Wikia is a free-to-use site that makes money from advertising. We have a modified experience for viewers using ad blockers

Wikia is not accessible if you've made further modifications. Remove the custom ad blocker rule(s) and the page will load as expected.